ROCK'N'ROLL HAS NEVER BEEN ABOUT MONOGAMY
Je
voue
donc
un
culte
non secret aux instruments de musique et plus généralement
au matériel musical
.
L'idée de base était de me constituer la boîte à outils parfaite pouvant couvrir tous les styles, selon l'inspiration du moment. Un exemplaire de chaque guitare mythique, les amplis qui ont fait la légende, les effets les plus utilisés par mes références, …
J'ai commencé la guitare en 2002 avant de switcher vers la basse en 2004, mais c'est courant 2007 que je commence à réellement être victime de GAS ; avec des poussées aiguës par vagues épisodiques.
En bientôt 18 ans de GAS, j'ai vu passer un sacré paquet de matos ! Mes goûts se sont affinés, et même si la polyvalence globale du plan de base a été conservée, je me suis résolu me concentrer sur le matériel que j'utilise et affectionne le plus.
J'ai possédé ou testé +/- tout ce que je voulais à un moment ou à un autre et j'ai conservé l'essentiel qui m'était accessible – un peu plus, peut-être.
LE CHOIX DU MATÉRIEL D'OCCASION
Mon arsenal est majoritairement constitué de guitares et basses d'occasions.
Financièrement d'abord : dans une logique d'acheter, tester et (éventuellement) revendre, la deuxième main prend tout son sens si on ne veut pas perdre (trop) d'argent.
Ensuite (et surtout !), c'est le plaisir de la chasse à la bonne occas' et la rencontre de l'élue.
Certaines de mes guitares ont des âmes et des courbes qui m'ont fait tomber sous le charme. À la manière d'un rencard qui se termine bien : ce sont des coups de foudre avant tout !
J'aime les guitares qui ont du vécu. Difficile d'expliquer cette relation particulière entre deux planches de bois et un homme, mais certaines guitares ont un mojo, cette sensation qu'on ne fait qu'un avec l'instrument, que « c'est plus facile » et qui nous inspire directement. Cela m'arrive moins souvent sur du matériel neuf, allez savoir pourquoi, je préfère les players qui ont fait de la route !
Je ne suis en revanche pas du tout branché vintage. Si une guitare me plait, peu importe le logo sur la tête, l'année de production ou la côte de celle-ci. J'ai eu plusieurs guitares et amplis vintage mais c'est beaucoup d'argent, souvent (trop) des soucis de maintenance (amplis) et j'ai peur de leur rentrer dedans au risque de les abimer (guitares). Je suis très heureux avec mes (très bonnes) reproductions !
PENCHANT POUR LE MATÉRIEL ARTISANAL
À côté de l'occasion, j'aime acheter de l'artisanat musical, local si possible, ou issu de jeunes sociétés pleines de promesses.
C'est toujours un risque financièrement en cas de revente, mais c'est l'opportunité d'encourager et de contribuer à faire vivre les petits fabricants, en ayant en contrepartie du matériel d'une qualité supérieure avec pas (ou peu) de compromis, ce que la production standard ne peut proposer pour une somme équivalente.
Évidemment, ce n'est pas parce que c'est local ou artisanal que c'est bon, mais quand c'est bien fait et que c'est du coin, ce serait bête de ne pas en profiter ! J'ai conscience que ce n'est pas à la portée de toutes les bourses, mais si vous pouvez vous le permettre, je ne peux que vous recommander l'expérience.
J'ai listé les fabricants belges dans la section Made in Belgium du site, tandis que les artisans avec qui je traite régulièrement se retrouvent dans la barre latérale sous la bannière « Musicalement recommandés » : mes excellents luthiers Denzo Custom et Mathieu Boulet ou les amplis Rutherberg pour ne citer qu'eux.
---
MUSIC GEAR
A D D I C T I O N
GUITARES



• Denzo Custom Countervail 'Gally'
2019 – Heartbreaker Jazzmaster + P180 – Toxic Green
• Denzo Custom Jazzmaster 'Dirty Molly'
2020 – Lollar Jazzmaster + Heartbreaker P90 – Sonic Blue
• Duesenberg Starplayer Special 'Lily'
2005 – 4x Seymour Duncan Lipstick SLS-1 – Blue sparkle
• Chapman ML3 PRO Traditional 'Moïra'
2017 – LollarTron + Heartbreaker Honey Blaze – Shadow
• Fender Stratocaster 50's 'Shelly'
2004 – Heartbreaker Cherry Vegas set – Surf green
• Fender TeleStrat Custom  'Tiffany'
2010 – LollarTron + Firebird + TvJones SuperTron  – White
• Gibson Custom Shop ES339  'Lena'
2008 – Gibson Classic 57 set – Antique red
• Gibson Les Paul Standard 'Gily'
2016 – Gibson Burstbucker Pro – Tea burst
• Gibson Les Paul Studio P90 'Missy'
1995 – BKP Mississippi Queen HBP90 set – Ebony
• Gretsch G6118T 125th anniversary 'Mary Jane'
2008 – Gretsch Filtertron set – Two-tone Smoked Green
• Indie Union Jack Les Paul 'Jackie'
2006 – S.Duncan P-Rails SHRP-1 + Dimebucker SH13
• Loic Le Pape Steel Bo 'Riley'
2013 – TVJones PowerTron – Seafoam green
• Mathieu Boulet Lutherie B-Rock 'Tori'
2011 – Mathieu Boulet handwired pickups – Cream & Blue skaï
• Sterling STV60 St. Vincent Signature
2017 – DiMarzio MiniHumbucker Custom set – Blue
• Tokai Firebird 'Birdie'
2010 – Curtis Novak Firebird set – Sunburst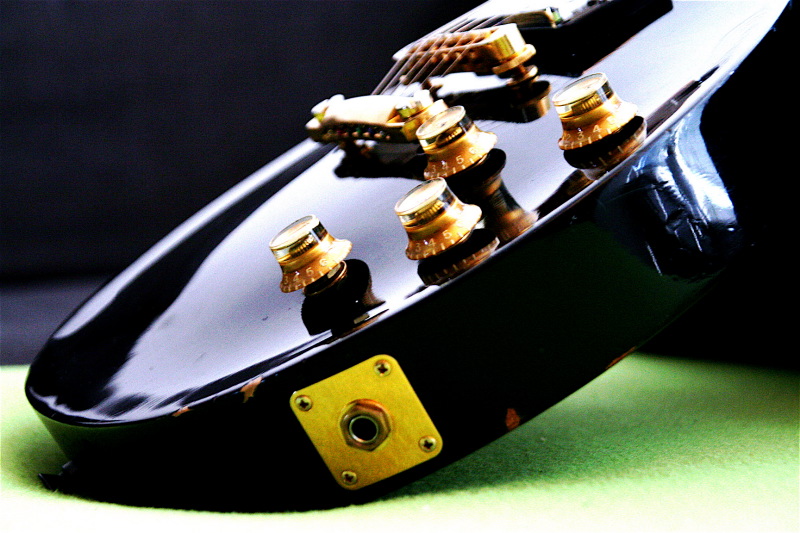 BASSES
• Denzo Custom P54 
2019 – Lindy Fralin Split '51 P-Bass – White
• Fender Mustang Bass Justin Meldal-Johnsen
2019 – Seymour Duncan Split Single-Coil – Daphne Blue
• Loic Le Pape RickenbackSteel
2017 – Rickenbacker set – Seafoam green
• Mathieu Boulet Electric Upright Double Bass
2015 – Fishman Piezo + Schaller
• Squier Jazz Bass Vintage Hot Modified 'Janice'
2006 – S.Duncan Bassline Vintage Hot P-Bass + JazzBass – natural
ACOUSTIQUES 
• Folk Sticked! (2004)
• Art&Lutherie Folk (2014)
• Ukulele électrique Stagg UC80 SE (2009)
• Harley Benton Banjo HBJ25 (2019)
• Jug Instrument Cigar Box Guitar (2013)
AMPLIFICATEURS
• Benson amps Vinny
2018 – specs : 1x EL84 / 1w
• Dwarfcraft Devices Love Buzz
2010 – specs : 2x EL34 / 50w
• FX amps Classic Plex 
2013 – specs : 2x EL34 / 20w
• FX amps DG20
2020 – specs : 2x EL34 / 20w
• Fx amps The DynaMight 
2013 – specs : 1x 6L6 / 12w
• Hard Stuff Box Royal Mojo – soon !
2021 – specs : 2x 6CA7 / 60w
• Honky Tone Champ Del'Reverb
2020 – specs : 1x 6v6 / 5w
• Kemper Profiler Amplifier
2016 – specs : powerhead 600w
• Morgan amps Dual 20
2020 – specs : 2x EL84 / 20w
• Orange AD30 HTC 
2006 – specs 4x EL84 / 30w
• Rutherberg Trigger – soon !
2020 – specs 2x 6L6 / 30w
CABS & SIMULATEURS
• Benson amps 1×10″ closed back
Jensen speaker  
• Mesa Boogie 1×12″ half open
Mesa/Celestion Black Shadow
• Hard Stuff Box 12/10 Mixed Cab half open
Fane F70 + A60 & Celestion Gold10 + G10 Greenback
• Hard Stuff Box 12/10 Mixed Cab half open
Weber 12F150 + 12A125A +10A125 & Jupiter LC10
• Hard Stuff Box 4×12″ Mixed Cab closed back
Celestion Gold+V30+G12M Greenback+G12M-65 Creamback
• Home made Cab 1×12″ open back 
Tayden Ace 50 AlNiCo
• Rutherberg 1×8″ closed back 
Jupiter 8SC
• Universal Audio OX Top Box
• Sequis Motherload Elemental
• Suhr Reactive Load IR
BOOST / OVERDRIVE / DISTO
¬ 1981 Drive
¬ Acclam Dr. Robert
¬ AnalogMan Bad Bob
¬ AnalogMan Beano Boost Mini
¬ AnalogMan Prince of Tone
¬ Anasounds Savage MKI
¬ Benson Preamp
¬ Bondi Effects Sick as Overdrive
¬ Boss BD-2w Blues Driver Waza Craft
¬ Browne amps The Protein
¬ Catalinbread SFT
¬ Chase Bliss Audio feat. Benson Preamp MKII
¬ Chase Tone Secret Preamp
¬ Death by Audio Interstellar OD Supreme
¬ EarthQuaker Device Acapulco Gold
¬ EarthQuaker Device Plumes
¬ Fairfield Circuitry The Barbershop
¬ Formula B Orange Boost
¬ Freakshow Effects Dirty Rabbits
¬ Gamin3 Push Up
¬ JHS Superbolt
¬ JHS Twin Twelve
¬ Maxon OD 808
¬ Moog MF Drive
¬ OKKO TwinSonic
¬ Oohlala Brown Sound
¬ Source Audio SA270 EQ2
¬ Stone Deaf PDF-1 Chrome Edition
¬ Tech21 Bass Driver DI Programmable
¬ Vemuram Jan Ray Mateus Asato
¬ Wampler Crush the Button Limited
I LOVE FUZZ
¬ AnalogMan Astrotone Fuzz
¬ AnalogMan Peppermint
¬ AnalogMan Sun Face BC108
¬ AnalogMan Sun Face BC183L 
¬ AnalogMan Sun Face NKT Red Dot
¬ Anarchy Audio Baa Bzz Fuzz
¬ Behringer SF300 Super Fuzz
¬ Benson Germanium Fuzz
¬ Blackout effectors FIX'D Fuzz
¬ British Pedal Company Zonk Machine
¬ Chase Bliss & Zvex Bliss Factory
¬ Chase Tone Fuzz Fella
¬ Crazy Tube Circuits Constellation
¬ Danelectro 3699
¬ DOD Carcossa
¬ Dr.No Colossus
¬ Dr.No Octofuzz
¬ EarthQuaker Device Hizumitas
¬ EarthQuaker Device Terminal
¬ EarthQuaker Device Tone Reaper
¬ Electro Harmonix Big Muff Op amp
¬ Expresso FX Fuzz Bender MKII Custom Ge/Si
¬ Formula B Fuzz Rangers
¬ Formula B Tone Bender MKI
¬ Funky Fish Belgian Fuzz Machien
¬ Fx Teacher Feed Me MKIII
¬ Gamechanger Audio Plasma Fuzz
¬ Jam Pedals Red Muck MKII
¬ JHS Bender
¬ JHS Smiley
¬ JMK Flender Bender
¬ MG Music Tony Tender
¬ Rainger FX Minibar
¬ Rainger FX DFST1
¬ Ramble FX Twin Bender
¬ Seppuku FX Sub-Octave Synthesizer
¬ Sola Sound CA Bum Fuzz Unit
¬ Sola Sound MKIV Custom Fruit Salad
¬ Sola Sound Yellow Hybrid OC140
¬ Super Electric Effects Ram's Head
¬ Super Electric Effects Tone Bender MKI
¬ Super Electric Effects Faylon Fuzz
¬ Tampco All Bender
¬ Thorpy FX Fallout Cloud
¬ Zvex Fuzzolo
¬ Zvex Fuzz Factory
DELAY, REVERB, PITCH & MOD
¬ Boss OC-5 Octave
¬ Boss SL-20 Slicer
¬ Catalinbread Echorec
¬ Digitech Ricochet
¬ Dr.No Moon Canyon
¬ EarthQuaker/Death By Audio Time Shadows
¬ EarthQuaker Device Dispatch Master
¬ Electro Harmonix POG2
¬ Eventide H9
¬ Funky Fish Envelope Filter
¬ Fx amps Heartbeat delay
¬ Gamechanger Audio Bigsby Pedal
¬ Hologram Electronics Infinite Jets
¬ Hologram Electronics Microcosm
¬ Jam Pedals Waterfall
¬ Keeley Hydra
¬ Line 6 HX Stomp
¬ Malekko Echo 600 Bright
¬ Malekko Spring Chicken Limited Edition
¬ Mr.Black Deluxe Plus
¬ Neunaber Technology Immerse MKII
¬ Neunaber Technology Wet Reverb Black
¬ Strymon Deco
¬ Suhr Discovery Delay
¬ Universal Audio Golden Reverb
¬ Walrus Audio MAKO M1
¬ Wampler Terraform
SWITCHERS & ROUTEURS
¬ GigRig G3 Looper
¬ EarthQuaker Device Swiss Things
¬ KHE Audio ACS 8×4
¬ KHE Audio CSX 8
¬ Morningstar Fx ML5
¬ Radial Cab-Bone Cab Switcher
MUSIC LAB
¬ iMac 27′ i7 3.5 GHz – 16go – 3to fusion drive
¬ Logic Pro X
¬ Universal Audio Apollo x8
¬ Universal Audio UAD-2 Satellite Quad
¬ UAD Plugins, Waves Plugins, Auto Align
¬ Universal Audio LA 610 MKII
¬ Kush Audio Clariphonic Stéréo EQ MKI
HARDWARE 500 Series
¬ Heritage Audio OST-10 Chassis 10 slots
¬ Purple Audio Sweet Ten Rack 10 slots
¬ AMS Neve 1073 lb Preamp
¬ Chandler TG2-500 Preamp
¬ Louder Than Liftoff Chroma Preamp
¬ Shadow Hills Industries Mono GAMA Preamp
¬ Api 525 Comp./Limiter (Fet Comp.)
¬ Tree Audio L/C-1 (Opto-Comp.)
¬ Wes Audio Dione (VCA Stéréo Comp.)
¬ Wes Audio Mimas (Fet Comp.)
¬ Little Labs Voice of God
¬ Louder Than Liftoff Stage II / RGB
¬ DIYRE Colour Palette mk II
¬ Bart HRK C544
¬ IGS Audio Bison
¬ Radial EXTC
MICROS
¬ Austrian Audio OC818 (statique FET à large membrane)
¬ NoHype Audio LRM-V (ruban)
¬ Placid Audio The Copperphone (dynamique cardioïde)
¬ Shure Super 55 Deluxe (dynamique supercardioïde)
¬ Shure SM57 (dynamique cardioïde)
¬ Swart RB-2 (ruban)
¬ Townsend Labs Sphere L22 (virtuel à large membrane)
MONITORING & CASQUES
¬ Enceintes Adam A7X
¬ Casque Sennheiser HD 800S
¬ Casque Sony MDR 7506
¬ Casque Focal Audio Spirit Classic
MIDI CONTROLLER & SYNTH
• Akai MPK 261
• Moog MiniTaur
• Roland Octapad SPD 30 (pad)
• Roland KD 8 (drum pad) + Pearl P 900
• Roland FD8 (charleston)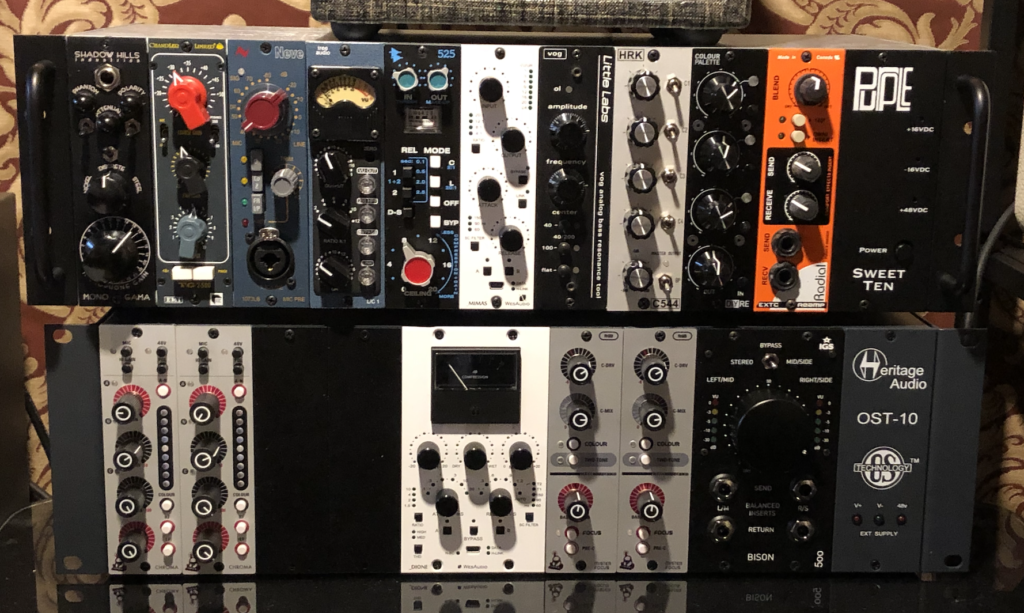 SONIC EXPERIENCE
Un rig composé de la sorte ouvre grand les portes à l'expérimentation sonore ! Avec ces guitares, combinées à des pedalboards bien fournis et des amplis de qualité, je passe des heures à la recherche de sonorités. Si un riff sonne bien avec une guitare, il peut être carrément mieux avec une autre.
C'est par ailleurs ce goût pour l'expérimentation qui m'encourage à alterner avec (presque) toutes mes guitares et à varier les combinaisons de pédales/ampli(s). Je teste, je gratte et je switch de guitares jusqu'à trouver satisfaction : c'est mon petit plaisir 🙂
Je ne me considérais pas comme collectionneur, car j'utilisais une grande partie de mon matériel quasi quotidiennement. Malgré le temps qui vient aujourd'hui à manquer pour jouer, je reconnais que mon envie d'acquérir ou créer certaines nouvelles pièces tout en conservant celles que je possède reste intacte. Je vais devoir me résigner à accepter ce que je suis devenu, même si je rejoue avec passion dès que l'occasion se présente !
Je continue à suivre l'actualité et reste à l'affût des nouveautés alléchantes 😉
HARD STUFF BOX : THE NEXT LEVEL
Mon addiction au matériel se poursuit avec le collectif Hard Stuff Box où nos différents projets nous permettent de mieux appréhender le « côté constructeur » du matériel musical et d'apprendre énormément de nos expérimentations en R&D, avec la finalité de créer le matériel qui nous correspond à 100%.

Ces processus de recherches & développements sont probablement les parties les plus fun et intéressantes du boulot : essayer différentes lampes et apprécier les changements de tonalité, tester une variété de haut-parleurs pour trouver la correspondance idéale, choisir les micros adéquats dans une guitare, envisager des finitions et designs qui déchirent, tenter de trouver la quintessence audio dans chaque Custom Work que nous entreprenons, …
C'est notre façon de vivre notre addiction au (bon) matériel.